Extra Strength Deodorant
has a rating of
4.8
stars based on
37
reviews.
Extra Strength Deodorant
Wild Wood
Fresh, Woodsy + Green

Fresh, Woodsy + Green

Inspired by a morning hike in a mountain forest after an intense summer rainstorm, this warm and woodsy aroma comforts your senses with the fresh and intoxicating aromas of Cedar, Sage, and Juniper

This formula is super concentrated — dispense only a small amount for each application.

ARTISANAL ESSENTIAL OIL SCENTS
Cedar: Grown at high elevations, this mountain tree has a soulful aroma with a touch of sweetness that uplifts and comforts with its warm and woodsy scent.
Sage: Fresh and green, this fragrant herb is native to the high deserts of New Mexico.
Juniper: A rich, wild, pine-needle aroma with a slightly bitter edge, this berry can be commonly found in high-elevation mountain terrain.
Plant
Derived

Minimally
Processed

Cruelty
Free

1300+ Banned
Ingredients

Aluminum
Free

Paraben
Free

Propylene
Glycol Free

Synthetic
Fragrance Free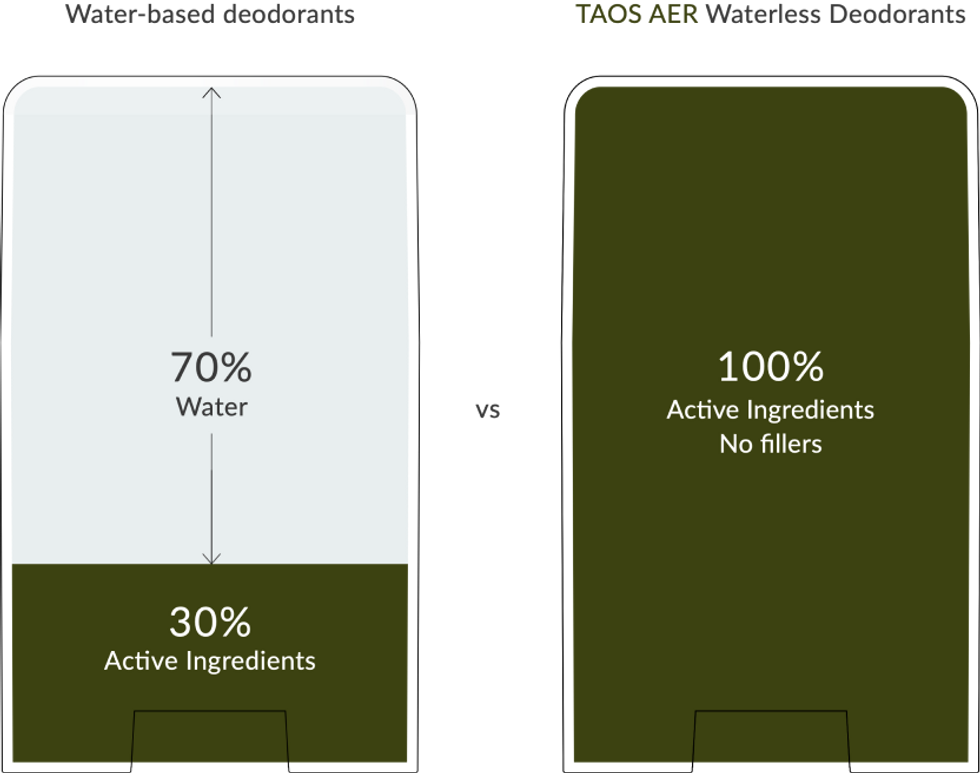 OUR CONCENTRATED FORMULA
Waterless means no fillers and a 100% effective product for you — every ingredient in our deodorant plays an important role in combating odor at the source.
By formulating without water, we're decreasing the stress on precious community water supplies.
HOW TO WEAR
This deodorant is super concentrated. Dispense a small amount for each use.
Precautions: Some people experience sensitivities to baking soda or essential oils. If this is a concern, please patch test on the inner arm and wait 24 hours. Avoid contact with broken skin. Stop use and consult a physician if irritation occurs.
If you have any questions about our ingredients, please contact info@taosaer.com.
OUR INGREDIENTS
Helianthus Annuus (Sunflower) Seed Oil*, DistarchPhosphate, Tapioca Starch*, Sodium Bicarbonate, Silica, Glyceryl Undecylenate, Cera Alba (Beeswax/Cired'Abeille)*, Tocopherol, Cedrus Atlantica (Cedarwood) Bark Oil, Juniperus Communis (Juniper) Berry Oil, Salvia Officinalis (Sage) Leaf Oil, Glyceryl Caprylate,Propanediol, Polyglyceryl-2-Caprate, Pentylene Glycol, Phenethyl Alcohol
*Organic/Bio
100% naturally-derived ingredients